A Simple Path To Customers In An Uncertain Economy
Learn To Create More Sales In 30 Minutes Or Less With This Free eBook And Training Series... Even In This Economy
Authentic And Effective Sales
Strategies For Uncertain Times
Entrepreneurs, Executives, Consultants, and Coaches...
As you're probably already well aware, the world and economy as we know it has changed.
Businesses in 2020 are facing their greatest challenges yet, including...
Navigating an economic downturn and decreases in revenue
Marketing budgets that are dwindling by the day
Loss of time and energy from managing a crisis
Rapidly changing client and customer needs
And the biggest challenge of all?
The typical 'song and dance' of sales -- pitching, preaching, chasing, and convincing -- simply doesn't work in this climate. It doesn't feel good to you OR your potential customers. And it isn't effective.
If you want your business to thrive during these changing times, your sales approach must change with it.
Today I want to offer you the gift of a Clear Path To Customers at a time when generating new business seems more unclear than ever.
It's the same process I used to rebuild my own business in 90 days after I lost nearly everything in the 2008 crisis. And the same strategy my clients are using now to experience their highest sales volumes yet, even while the economy struggles.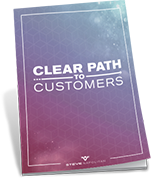 Today, it's my gift to you.
Receive your FREE eBook and training series and start turning the tide in YOUR business with Clear Path To Customers!
Clear Path To Customers is a proven 5-step process that allows you to:
Grow your client and customer base quickly, without pitching or chasing
Drastically decrease the time and cost of acquiring new customers (perfect for tight ad budgets and
busy schedules)
Secure more of the clients you truly enjoy working with...and less of the clients you don't
Increase the lifetime value of new customers by forging powerful, authentic relationships
In this FREE e-book and video training series, I will give you the simple step-by-step of how to:
Get a 'Yes' from the right clients with less effort and time
Discover the perfect language -- your clients' OWN words -- and turn them into a 'money message' for absolutely magnetic marketing
Strengthen your brand and make more money by saying 'no' to the wrong clients
Take the guesswork out of your sales and marketing efforts
Enter your information to claim your FREE Clear Path To Customers eBook and Trainings
You'll receive your CPTC book and first training in your inbox
Implement what you learned and start generating results (and revenue!)
Clear Path to Customers is a concentrated training that will take you as little as 15 minutes -- 30 minutes at the most. Within another 30 minutes, you can be implementing the simple 5-step process I've laid out for you!
Over the next 3 days, soak up a free video series designed to help you overcome the biggest challenges facing businesses in this crazy new economy
Meet Your Host: Steve Napolitan
Steve Napolitan is an award winning marketer, placing in the top ten in Marketing Sherpa's Most Viral Ad in the World Competition. His clientele includes Fortune 500 companies like Apple, Intel, Charles Schwab and Nestle, as well as small to mid-sized companies. 
Recently, he took one client from 250k to 2 million.  He helped another shoot from 5 million to 9 million in just the last 18 months. A Billion dollar company reached out to him because they were about to shut down one of its divisions due to a six figure monthly loss. Steve turned that department around to generate over 63 million in annual revenues... And gaining! 
In addition to consulting with clients Steve is a #1 international bestselling author. He has written two books, Capture Clients Close Deals, a simple way to gain clients without convincing or chasing, and 1 Hour a Day to Six Figures, How I went from zero to multiple six figures… and how you can too.